Done For Your HIPAA Compliance


The microCOMPLIANCE solution powered by HIPAA Secure Now! will provide you with the tools you need to comply with the HIPAA Security Rule. microCOMPLIANCE was developed by experts knowledgeable with the HIPAA Security Rule, computer and network security, and security training. The combination of these skills are apparent in the level of detail and knowledge that the service provides. microCOMPLIANCE consists of the following:

18+ Policies and Procedures that address:
Administrative Safeguards
These provisions are defined in the Security Rule as the "administrative actions, policies, and procedures to manage the selection, development, implementation, and maintenance of security measures to protect electronic protected health information and to manage the conduct of the covered entity's workforce in relation to the protection of that information."
Physical Safeguards
These provisions are defined as the "physical measures, policies, and procedures to protect a covered entity's electronic information systems and related buildings and equipment, from natural and environmental hazards, and unauthorized intrusion."
Technical Safeguards
These provisions are defined as the "technology and the policy and procedures that protect electronic protected health information and control access to it (the EPHI)."
Policies and Procedures include:
Security Management Process
Assigned Security Responsibility
Workforce Security
Information Access Management
Security Awareness and Training
Security Incident Procedure
Contingency Planning
Evaluation
Business Associate Contracts
Policies and Procedures include:
Facility Access Controls
Workstation Use
Workstation Security
Device and Media Control
Policies and Procedures include:
Access Control
Audit Control
Person or Entity Authentication
Transmission Security
Each Policy and Procedure is a separate Microsoft Word document. The Policies and Procedures are customized with the name of your organization. Most of our clients do not require any changes or additional customizations to the Policies and Procedures but customization is an optional service if you need it. In addition to the 18 Policies and Procedures, microCOMPLIANCE also includes forms and checklists that address:
Device and Media Tracking
Computer use guidelines
Tracking access to server and equipment rooms
Breach notification checklists

A detailed Risk Assessment is required under the HIPAA Security Rule. It is also considered the foundation of the HIPAA Security Rule.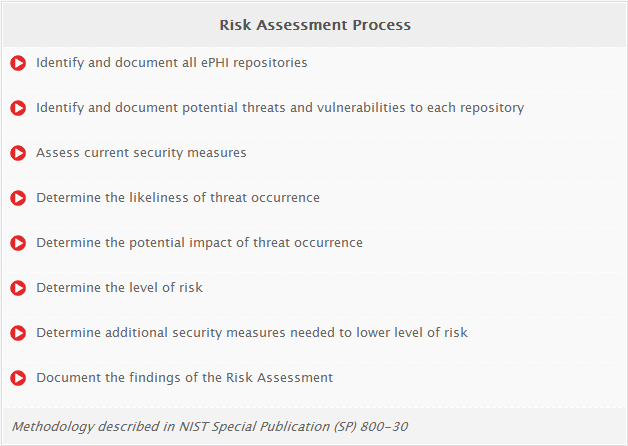 The output of the Risk Assessment consists of a 10-15 page Executive Summary as well as a 20+ page detailed report. The Executive Summary is an easy to understand overview that discusses the current state of your overall risk to your systems that contain ePHI as well as recommendations to lower the risk to each system. The detailed report looks at each system that contains ePHI and documents the threats to the system, the vulnerabilities to the system, the current safeguards in place to protect the system and the additional recommended safeguards to lower the risk to the system. The Risk Assessment report will give you a good understanding of the risks to ePHI and provide you with specific steps and actions that you should take to lower the risk.

HIPAA Security Training and Compliance Testing
One of the most important steps you can take to protect ePHI and patient information is to provide security training to all of your employees. Security training is a requirement under the HIPAA Security Rule
microCOMPLIANCE provides in-depth training on the HIPAA Security Rule as well as advice for best practices in protecting ePHI and patient information. The training is provided in an online format which is both engaging and convenient to your staff. Some of the topics covered in the training include: Training Topics
What is the HIPAA Security Rule?
Understanding ePHI and PII
Protecting ePHI
Protecting Passwords
Auditing ePHI
Recognizing and Preventing Malware
Using Encryption
Security Breaches and Violations
Practical Security Steps
Many more topics
Training usually takes around 1 hour to complete. Your staff can start a training session, stop and resume the session from where they left off. They can take the training during work hours or complete the training at home after hours. Feedback from our clients regarding the training has been very positive. Once your staff has completed the online training, they will take a short 15-20 question online quiz to demonstrate their knowledge regarding the HIPAA Security Rule. If they receive a score of 80% or higher, they will receive a certificate with their name that acknowledges that they have successfully completed the HIPAA Security Training. If they do not receive an 80% score on the quiz they can retake it as many times as they need to. When your entire staff has completed training, you will receive a report that lists each of your staff members, the date they took the training and the highest score they received on the training quiz.

12 Months Use of the HIPAA Secure Compliance Portal
Included in the microCOMPLIANCE Service is 12 months access to the HIPAA Secure Compliance Portal. The HIPAA Secure Compliance Portal makes it easy to manage everything that you need to achieve and stay compliant with the HIPAA Security Rule.
microCOMPLIANCE HIPAA Secure Now! is comprehensive and affordable!
The Annual HIPAA Compliance Subscription (HCS)
The quick, easy and inexpensive path to HIPAA compliance

The HCS includes all of the following:
Annual Risk Assessment
HCS provides an annual HIPAA Risk Assessment
Ensure you know the risk to patient information
An annual risk assessment is required for Meaningful Use
On Demand Training
HIPAA training for existing and new employees
Retrain employees on an annual basis
Provide compliance testing
View compliance reports that show when employees were trained and their compliance testing scores
Compliance Portal Access
Employee access to policies and procedures
Track business associates
Security incident response
Access disaster plans
Store contracts
HIPAA related information
Educational videos
Audit "Book of Evidence"
Security Reminders
Provide on-going HIPAA security reminders to your staff on how to protect patient information
Our security videos are light and enjoyable
HIPAA is boring no more!